Las Vegas, Nevada: A good man in the capital of gambling
He stands on the pavement on Las Vegas Boulevard. On one side he has four Elvis impersonators and on the other Mickey Mouse. He is the only one who is quiet. Around him the city moves at a hysterical pace. Neon lights flash, glare, sweep, roll and change colour. Music throbs from every bar. On the street, the engines of the cars and motorcycles rumble.
Tourists dance to the music on the pavement. Tourists hurry from one bar to the next, from one casino to the next. They hold large plastic glasses of spirits in their hands. The Margaritas come from a silo filled with spirits that has been proclaimed the biggest cocktail in the world.
He stands out because he does not belong here.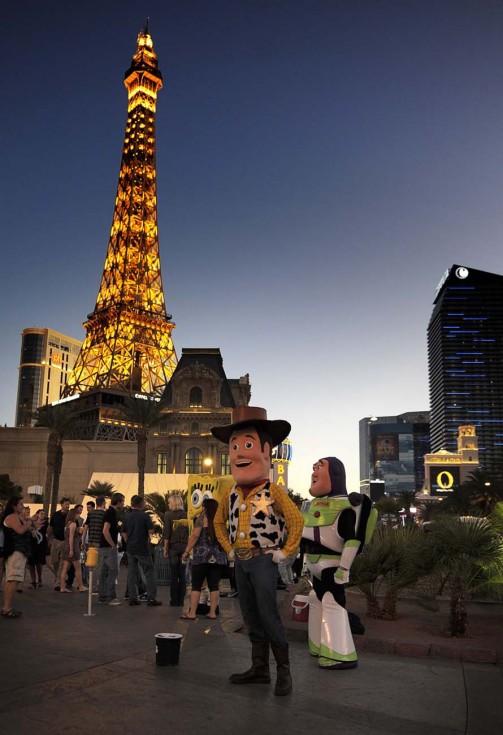 Over there is Darth Vader with a paunch. He hopes to earn a dollar or two when tourists have themselves photographed besid
e him. And there is Luke Skywalker. A worn, tired Woody from Toy Story. An ageing Marilyn Monroe. Gene Simmons from Kiss. Buzz Lightyear. Supermario. More Elvis impersonators! A man with a boa constrictor. A man with two boa constrictors. You need to find your own gimmick and stand out from the cutthroat competition. Spiderma
n. Marie Antoinette. Darth Vader makes listless lunges with a plastic sword.
Native Americans from Mexico hand out flyers with the phone numbers for Hot Sexy Girls who will arrive in 20 minutes if you just dial t
he number.
Shy boys from the country hold bottles of beer in their fists and have themselves photographed beside Playboy Bunnies with half their bottoms on display.
None of this affects the quiet man. His name is Harold Taylor. He is 55 and he collects money for the homeless. The
only reason he does so is that he thinks you should help your fellow human beings.
Harold has a job, not particularly well paid but it is an income. He used to be a teacher back home in Altus, Oklahoma. Here in Las Vegas he helps schoolchildren with their homework for payment. His wife Josephine is a cleaner in a beauty salon.
They have been married for 22 years. They rent a small house on the outskirts of town. They have all they need.
"Come on baby!" says an Elvis impersonator to passing women. A surprising number of them stop.
Harold and Josephine moved to Vegas two years ago. They wanted to start again, he says. The other day he saw in an advertising sheet that the US Missionary Corps needs volunteers to collect money for the city's shelters. Harold signed on.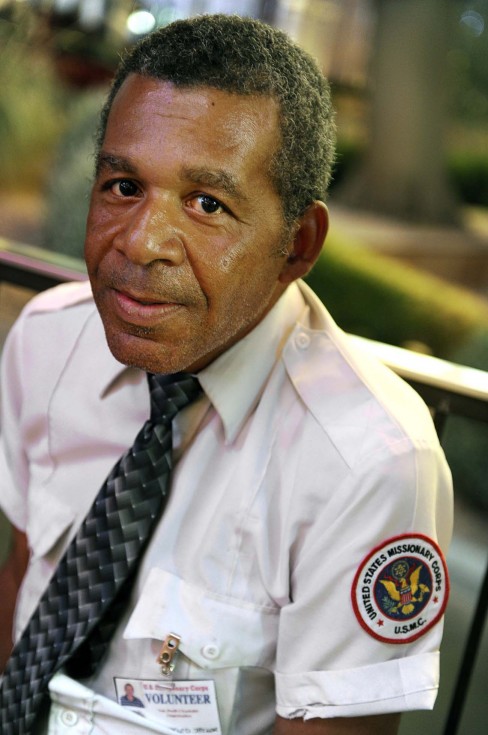 "I am appalled that there are people who have nowhere to live." 
Thousands of repossessed houses are for sale in Las Vegas. This means that tens of thousands of people have lost their homes.
A striking number of the people streaming along the pavement are carrying drinks, bottles of beer or full jugs of beer. Harold says:
"Las Vegas is interesting. Really different from Oklahoma. I haven't got to know the city yet. There is so much here."
Mickey Mouse takes off his head. The man beneath is glistening with sweat. He smiles at Harold. He is missing a few front teeth.
Harold is, of course, born again. I realised that from the start. Only those who are religious or politically active go out of their way to help their fellow human beings in the way that Harold does.
"I am … astounded when I see everything that goes on here," he says. "But I judge no one. I am not a judge."
I offer to buy him a cup of coffee. We go into Starbucks. We have not been sitting down for one minute before two uniformed security guards come in.
"This is a private area," one of them says to Harold. "You're not allowed to be here.
"
Why not?" I say. "We've bought coffee.
"
You can stay. But not him."
The guard nods towards Harold.
"But why not?" I say.
The guards are embarrassed. They nod towards Harold's collection bucket that he has placed on the floor by his chair. They say that they have their orders. One of them picks up a piece of paper and reads it to Harold: He must not enter the café ever again. If he is seen in Starbucks again, the guards will contact the police. Harold may then be prosecuted.
The other guard checks Harold's ID.
"No problem," he says. "I understand that you have to do your job."
We leave. The Elvis impersonators are in full swing. Mickey Mouse has put his head on again. We sit on a railing and drink our coffee. Harold says that he likes to listen to music. Eagles. Chicago. Earth, Wind & Fire. He will go home in a while. His wife should have finished her cleaning job now.
We shake hands and I walk on up the boulevard. A con man urges us to try and find the pea under three boxes. The stake is a hundred dollars. A man in net stockings with a bulging white stomach and wearing a Batman mask stands by the footbridge to Caesar's Palace. The tourists are getting drunk in the warm evening. They are very welcome in the amusement arcades.
Läs den här sidan på svenska
[slideshow custom=1 auto="undefined thumbs="undefined"]

[socialButtons]